Today is the sixth day of our journey. The schedule was kept light the day before purposefully to relax a bit. Apart from little breathlessness due to less oxygen at Chitkul everything was fine. We had very good sleep the night before so we were all fresh and charged up for the day's journey. Plan for the day was to reach beautiful village of Tabo via Kalpa and Reckong Peo.
If you have missed the III rd part then here is the link-
So once again we loaded our bags and left Sangla around 9.00 a.m. Our first stop for the day was Reckong Peo, 43 km from Sangla and then to Kalpa, a small village 13 km from Reckong Peo. Except for the few patches road conditions were bad because though road construction activities were going on at that time. It took around three hours to reach Kalpa from Sangla. Kalpa is famous for breathtaking views of Kinner Kailash mountain peak. Roghi village another picturesque village 4 km from Kalpa gives you the opportunity to see Kinner Kailash top almost at the eye level. The whole village was surrounded by apple orchards, a very good place to experience the quiet village life of this part of the country. There is also a small but beautiful temple situated in this village displaying local architecture. Though sunny but weather was just pleasant. We took to walk through the village for quite a distance through apple orchards, flower-laden trees like the rose. After making sure enough selfies are taken and of course rounds of photo sessions we found a tea shop in the village, probably the only tea shop in the vicinity. We spent around 30 minutes in this tea shop on the background of which stood the mighty Kinner Kailash Mountain. Life can't be better than this. A trek to Kinner Kailash can be planned from Reckong Peo. The place is so beautiful that you cannot just see the place completely in one visit. Well, this is ok with me as it gives an opportunity to come back to this paradise again!
After having relaxing tea and exploration of the Roghi village we returned back to Kalpa through the Suicide point! Well yes, this point is famous for its dangerous trench and the vertical slope is very aptly named as suicide point. One can see the river Sutlej flowing down below and at the same time unhindered views of snow-capped mountains.
While coming down we also visited the beautiful Narayana- Nagini temple and ancient Hu-Bu-Lan –Kar Monastery By the time we returned to Poari Bazar, Reckong Peo it was almost 3.00 p.m. We finished our lunch here at Shere Punjab Hotel. The food was excellent especially mutton delicacies. Reckong Peo is the headquarters of Kinner district and almost all facilities like hospitals, fuel, ATMs are available here. By the time we were ready to start for Nako (103 km) it was almost 4.00 p.m.
Once we hit the highway from Reckong Peo to Nako, real bad road started. Evening is the time when heavy wind blows in these areas. We were warned about this by the owner of the guest house we stayed in Sangla. He suggested us to reach Nako by 5 p.m otherwise it would be a tough journey. Now we realized what he meant by the tough journey! The roads were in really bad shape, there was no sign of tar over the roads. These areas receive heavy snowfall during the winter months and that damage the road every year. Although constructions were going on several places in this route but they get very little time to finish the entire road before the winter and this happens every year. Construction work in this region is also extremely difficult because of very low level of oxygen in the air. Mountains in the region are very fragile and when wind blows with high velocity it slowly chips away the weak areas of these mountains. This causes incidents like landslides, shooting stones etc These are very common especially during the evening hours when wind speed is very high.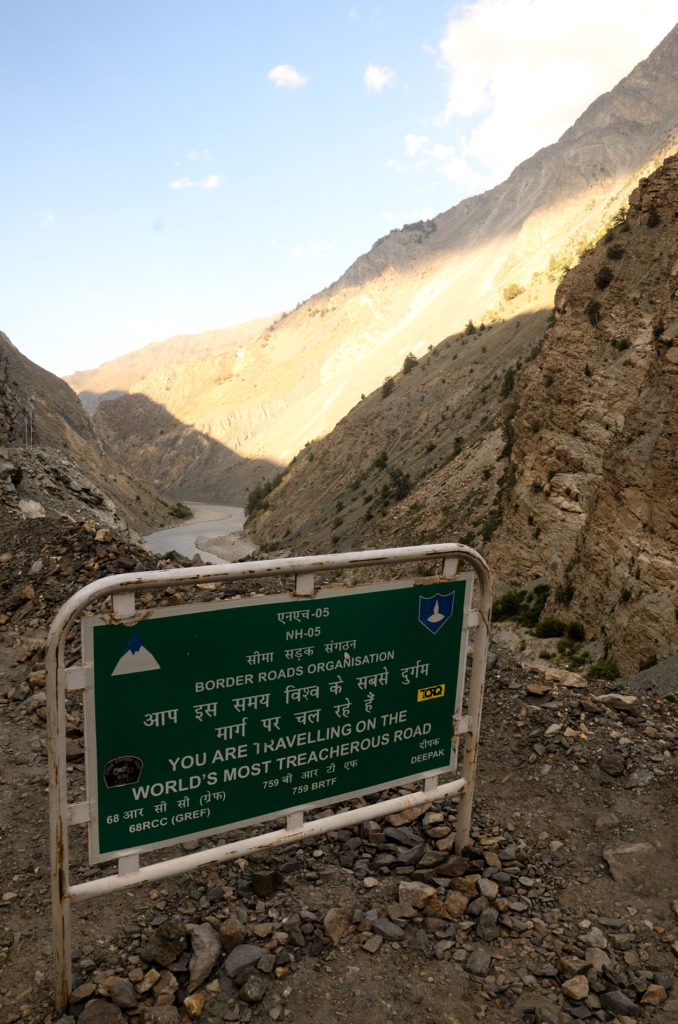 Now the river Sutlej was flowing to our right side with all its glory. We would have travelled for around 25 km from Reckong Peo when small stone chips started raining from the mountains due to heavy wind. Some of these fell on our vehicle too. The driver took us as fast as he could through this section of the road. Then we realized why this part of Hindustan-Tibet road is called most treacherous road in the world. There were several signboards put on the by Border Roads Organization informing the same to the travelers. We took some snaps in front of one of these boards for our memory. As we reach nearer to Pooh the road conditions started getting better. Pooh is a small but beautiful village. More armed forces personnel than civilian can be seen in this area due to close proximity of Indo- China border. Some 12 km from Pooh there is a point called Khab where the river Sutlej unites with River Spiti. Now we were formally in Hangrang valley, the second largest valley of Kinner, the first being Sangla valley. From this point onwards river Spiti was our constant companion to the left. The road from this point is steep climb though road conditions were very good. This climb forms eight hairpin curves which provides awesome view of the river Spiti crisscrossing the Hangrang Valley. We witnessed one of the best sunset from the top of this climb.
We finally got some good roads from here so we speed up our way to Nako as daylight was fading very fast. By the time we reached Nako it was around 8 p.m and it was dark. We did not make any booking for Nako so after reaching there the first job was to find a suitable place to stay. Even though Nako is a small village but it has a few hotels, camps and homestays suiting all budgets. We choose Hotel Reo Purguil, a beautiful hotel at the entrance of Nako village which also provides excellent room service for our stay at Nako. By the time we settled in our rooms it was 9.00 p.m. After freshening up quickly we went to the in-house restaurant which was very crowded. We were tired so we ordered room service and returned back to our rooms. Nako is situated at an elevation of 3,662 meters (12,014 ft).The air is rarified with less oxygen so the body needs proper acclimatization to feel at ease.  So going down to the restaurant and coming up to the rooms made us panting very badly. Do not exert yourself in these places- a lesson learned in a hard way. Finally, our food came. We had simple food for the night. Quality of food was also very good. Today we were very tired of our journey to Nako hence passed out quickly after that. One thing I want to mention here that Nako is a wonderful place to observe stars and photograph it. The only thing you have to keep in mind that nights are generally very windy and cold, so take precautions for that.
Next day for a change we ordered Israeli breakfast. It was good. After this, we were out of the hotel to explore the place. We were moving very slowly but still the heaviness of breathing could be felt with every step due to less oxygen. Even though we were traveling in this route for last few days but still walking long distances felt difficult. There is a lake in the middle of the village surrounded by walls with Mani stones placed over it. The village is picturesque. We returned to our hotel after spending around two hours exploring the village. We returned and loaded the stuff in the vehicle for the onward journey towards Tabo, another beautiful village on the way to Kaza.
One thing I want to mention here that if possible you should spend at least one full day at Nako. Though the village is very small and there is nothing much to do but there is some charm in the silent and peaceful environs of this sleepy village which can only be experienced if you spend some time there. I have entered this in my bucket list for my next visit. And yes, you cannot cover everything in one visit to this region.
Road conditions were good from Nako to Tabo ( 64 km). You will have to go down to almost to level of Spiti river from Nako. Our next stop for the day was Gue village famous for probably India's only Mummy to have undergone natural mummification. Our journey was slow and we stopped at Chango village (24 km) since our vehicle required a small check up and finding mechanics is a bit tricky in this remote area. As the driver took the vehicle for check up, we spend our time exploring the village which is little bigger than Nako and had few shops. Most importantly it was almost at the level of Spiti river so the heaviness in breathing which we felt at Nako was not present.  In between we finished our lunch there at a small restaurant at Chango. After spending some 45 minutes there we hit the road again.
Gue or Guam village is 12 km from Sumdo. We took right from the highway near Sumdo and the road is in poor condition. The change in colours of the landscape in this route was very evident. The soil was of blackish colour, even the water of the river Gue appeared black even though it was coming straight out of some icy glacier. It was 2.00 pm when we reached Gue village. The village has only a dozen or so houses and after crossing the village appears a knoll on which the monastery is situated where the mummy is kept. Upon reaching there a very old women opened the door of the temple where this mummy was kept inside a glass enclosure. On inquiry, the women told us that the mummy is of the monk or lama Sangha Tenzin and around 500 years old. The adjoining new monastery is also very beautiful. You can see the whole village from this place. After spending some time there we were back to the village. The villagers were busy buying vegetables and other small provisions from a van which as was informed comes once or twice in a week and villagers have to top up their supply from this. It was also informed by the teacher of the village school who took lift in our vehicle to the main road that frequency of buses coming to the village is not fixed even though there are bus timings. The bus comes only when the number of passengers for the village crosses a limit otherwise they drop them to Sumdo. From Sumdo the passengers have to make their way to the Guam village sometime by taking a lift in another vehicle which is coming to the village or those who have motorbikes park their bikes near Sumdo but sometimes they cover this distance of 12 km through this treacherous route by foot. Life is really tough here.
We were again on the highway with river Spiti on our left. We reached Tabo at around 4 p.m. Tabo is a beautiful village on the banks of river Spiti & the Tabo monastery which was founded more than a millennium back in 996 A.D is situated here. The village is situated at an altitude of 10,760 ft/ 3,280 metres. The temples within the monastery complex in Tabo have a plethora of wall paintings and mud statues.Tabo is noted for being the oldest continuously operating Buddhist enclave in both India and the Himalayas. Photography is prohibited inside the temple. When we reached there prayers were getting performed inside the temple by the Monks and outside by the people other than monks. It was surreal atmosphere.
We chose Maitrey Guest Home Stay near the Tabo monastery for our stay for the night.  We spend the evening exploring the village, sat for some time inside the monastery premises watching people praying. It was a beautiful evening. We returned to our guest house after the nightfall. Rest of time before going to bed was spent chatting about places we explored and to be explored.
Getting there-
By Road–  Sangla to Kalpa(40 Km), Kalpa to Nako (101 km), Nako to Sumdo- (36 km), Sumdo to Gue village(12 km), Sumdo to Tabo (28 km). Except for few small patches road conditions are bad to vary bad till Pooh. After Pooh road conditions are good till Nako. Road conditions from Nako to Sumdo and to Tabo are good.  Road conditions from Sumdo to Gue village are bad.
Stay– Kalpa & Reckong Peo has many hotels and guest houses so getting a hotel or guest house of your choice is not difficult if you are staying here. In Nako there are a few good hotels and camps. Apart from that there are many home stay in the village. Tabo also has many guest houses and home stays to suit your liking. We did not make any booking before coming to either Nako or Tabo but did not encounter any trouble in getting place to stay.
Food: There are no fancy restaurants either in Nako or Tabo but finding suitable food (both veg & non veg) should not be problem. Do taste local cuisines.
Connectivity: Reckong Peo has the internet facility but other than BSNL there is no other network is available here that too in town area once you are in highway than receiving signals is very erratic, forget about internet connectivity.
Precautions: Most part of the road is bumpy, so be prepared. Please carry adequate woolen/warm clothes with you because after sunset the temperature goes down rapidly. The place is very windy too especially the intensity increases during the evening hours. Please don't exert yourself especially at Nako, you will get out of breath very quickly because there is lack of oxygen. Give your body time to adjust with the environment there. Acute Mountain Sickness (AMS) is very much a real thing in these parts. Do keep some Diamox tablets with you, it helps in AMS. Please keep drinking small quantities of water frequently throughout the period you stay there and avoid sleeping during the day time.